Pick the Right Drift Bobber

A very simple, yet effective way of improving your hook-ups this winter with one of those sometimes elusive steelhead starts at your local tackle shop.

This tip doesn't focus to tell you what size, color, or shape of drift bobber to buy, instead, it focuses upon choosing the particular bobber that you currently like to use ... especially those that are winged.

The next time you go in to buy a bunch of drift bobbers, don't just grab a handful of your favorite one, instead, look at each one carefully and choose the bobbers that have holes that are off-center.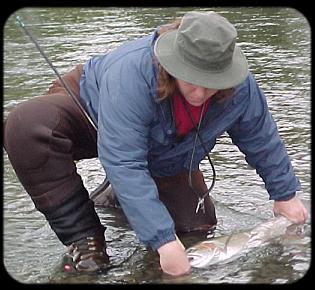 Paying attention to the little things can help improve your success!
Why? Whether you fish standard bobbers such as the corky or cheater, or the winged cheater, spin 'n glo, or birdie, those bobbers with the off-center holes produce more action than those drift bobbers with the holes perfectly centered. Consequently, you should catch more fish.
Just take a few moments next time you buy your drift bobbers and give them a quick look as to hole placement, it might help make the difference between a skunk and a good day!