Ever have a strike while plug fishing for salmon or steelhead only to see the fish roll on the surface and snap you off, or have you broken off a fish during the battle with little pressure for apparently no reason??
Unexpected break-offs of fish occur often while fishing plugs and the area within the red circle at right is often the culprit.
What occurs is that when a fish rolls in the line, it sometimes gets caught in the crease in-between the trebles - pinching and sometimes causing the line to snap with even the lightest tension. There is a way to help prevent this from occurring ...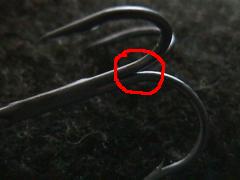 The culprit of lots of long faces!
Simply fill this gap with superglue, epoxy, or even fly-tying head cement as I am doing in this photo. Make sure that you completely fill the gap, sometimes with runnier glues, such as some head cements, two applications will be necessary to build this up enough to keep line from entering this area.
After filling the gap, the line can safely be pulled into this area without fear of the line becoming pinched and breaking ... a sure disappointment if not due to the loss of a nice fish, but perhaps the loss of a favorite plug that has accounted for dozens of sore-mouthed fish.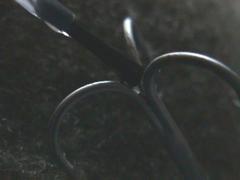 This is a way to reduce or eliminate the problem!