---
Jeez, it's September already again and that means I'm off playing again for about a month on a favorite little river somewhere. Unfortunately, the of a trend that began last year of a little shorter vacation is continuing this year - so we're looking at just about a month of the Journal this year. I won't be updating as frequently this season for a number of reasons, so look for updates about once a week.
New for 2000! Click on any pic to see a large version. The new image will appear in a new browser window. Simply close the new browser window to return to the Journal so that you don't have to reload it each time!
September 6, 2000 ... With Fishgal in tow, I Finally got into camp late last night. Trip was pretty uneventful overall (other than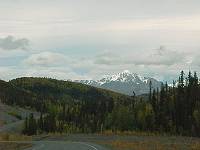 Fishgal getting a speeding ticket) ... which is always a good thing getting here. Camp, even as late as I got here this year, is pretty empty with only Art C. and Jim R. already here. The bad news for us was the final word we received that Jim S. and his wife Nancy will not be able to make the trek this season. A big bummer to hear, we were really looking forward to fishing with our part-time gear convert and spending time at "Cocktail Hour" with the two of them. The water is quite high, but fishable at the moment. Tomorrow morning, I'll install the official camp gauge.
September 7, 2000 ... Awoke this morning to some good looking water out front - a little high but nice color. Spoke with Art for some time late last night and found out that there seem to be pretty good numbers of fish in the river for this time of year as he has done fairly well the past few days. Installed the camp gauge late morning and our official starting point will be 18 inches. As much as we wanted to go out and fish today, we spent the day getting groceries and our gear fully set up - only problem is that by nightfall, the gauge is up to 20 inches :( ... but on a brighter note, Art informed us that he landed a fish around 25 or so in the lower river. We can't wait!!!
September 8, 2000 ... Got up late this morning as we needed to get our licenses first thing and had to wait until the office opened to get them. We had to mull over the decision to fish though as the water is up another three inches and is pretty murky with about a foot and a half of vis. We decided to stop and see our old friend Dorothy before we fished and were treated to some fine cinnamon rolls and pineapple squares (all baked in her woodstove!) before our fishing. Art and Jim were already in the Yoda so we decided to try to fish Mickey's although the water looked awfully yucky.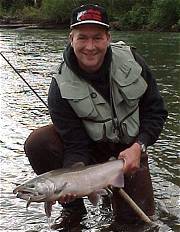 Deciding that the water was way too far gone for the bugrod, I grabbed a 1025 set up with a 3/5 ounce silver spoon (Corey, aka Fishgal for you newcomers was armed with the same). Starting on the slow edge in the top of the hole, we meticulously worked our way down the hole without a single take until I finally got about half way down and my spoon got slammed. Right away though, with the absence of a hard run that are so typical of the fish in this river, I knew I didn't have a steelie, but rather a nice Coho that welcomed us back to the Zipperlip.
A few minutes later Art and Jim came up from below and let us know they had not had any luck below and after we all sat down and munched on Costco muffins and sandwiches. With the water not looking so good, Art and Jim decided it was naptime but Fishgal and I decided to go try the Yoda anyhow. We started up top, the area in which we banged so many fish last season ... but even along the edge of the main flow, things were really snorting along so we dropped down into the hole and concentrated on the inside edge, sneaking a few casts out into the heavier flow and to the far bank. I remained on Coho patrol for a little bit, but finally, on a cast all the way into the heat on the far bank, found a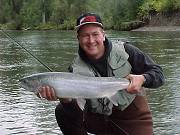 steelhead willing to pounce upon the spoon. It wasn't a terribly big fish, but the thrill of actually being back into my favorite fish, the steelhead trout, made the fish seem enormous. Within a few minutes, I had a pretty hen of around 8 or 9 pounds at my feet ready for the first steelie picture of the year!
With Corey trailing through the hole previously, I hopped back in behind her to start back in. Within a half dozen casts or so, Corey,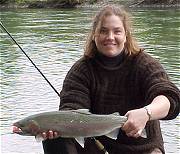 fishing her "special" rag, was into a steelie ... a tiny one, but at least it had enough spunk to act like a bigger fish and it put smiles on both our faces as Corey skillfully slid the small buck into the shallows on a day that we weren't too sure was going to produce anything at all.
Taking the lead again, I soon managed to hook and land another hen, this one a nicer fish of about 14 pounds that did its best to shake free in a series of eye-widening leaps ... but alas, in our small, medium, large to jumbo size range, the jumbo got away about twenty minutes later as I lost a nice fish of 20+ after the first jump ... hooked again on the far bank. Obviously, the rocks that held so many fish for us last year when the water was lower in here were giving these fish enough of a current break for them to hold in what would otherwise be awfully heavy current for steelhead under dirty, high flows. We shared our results with Art and Jim when we got back into camp and they said they had never even tried to fish that far across in that heavy of flow ... just goes to show that you can never steelhead long enough to know everything about these fish under all circumstances! Lesson learned!
September 9, 2000 ... A rough night sleeping last night as the weather wasn't the best with some high winds and some rain, occasionally heavy, moved through. We were pleasantly surprised this morning though to find the river had dropped an inch from last night so we opted to bag our original plans and head back up to Mickey's and the Yoda. Fishgal and I headed up an hour earlier or so than Jim and Art, so we had our choice of the two close-by holes ... and opted to go ahead and try Mickey's for a bit before heading down. No sooner did we pull onto the bar the skies opened up and a steady rain began to fall ... how I love getting into waders in the rain! The water looked a little better than yesterday with slightly lower flow in here, so I decided to go ahead and bust out the bugrod for starters ... a new one for me, an 11 1/2 foot, 9 weight Loomis GLX that could be fished either double or single handed - a rod I bought almost exclusively for the purpose of throwing my T-400. I made one pass through, impressed with the new rod, although a little off sync with it initially ... and found just one suicidal dolly to like my offering. Fishgal followed behind fishing a spoon initially and then swapping over to her "special" as she found that keeping the spoon down in the water column was quite a chore. After finishing my pass with the flyrod, I decided to go give the spoon a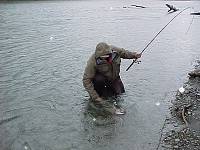 try behind Fishgal. "Oh, you think you can do better with it??" she asked, I smiled and nodded and went to work. Two casts was all I needed to hook into my first fish, a hen of about 10 pounds, and my "Told you so" got me a stern lecture about gloating :) Things didn't improve any after I hooked another fish just a few casts later. This one got the best of me though and threw the spoon back at me on its first jump ... as a condolence to the lost steelie, I was relieved that it was not nearly as big as the one that pulled the same evasive maneuver on me the day before. Paybacks can be Hell I soon found out as Corey hooked one of her own just a few minutes later, but I got the last laugh as it too threw the hook on her. The Fish Gods saw things needed to be smoothed over though (this was all in fun, but we appreciated the gesture) as we both landed another fish after a bit. In the midst of this flurry of activity, Art and Jim stopped by on their way into the Yoda and let us know they were going in. Knowing that it would probably be low enough to fish alright with the flyrod, we committed the cardinal sin of fishing and left fish to find fish. Our spirits soared though as we walked into the hole and Art announced that they had each hooked two fish on the flyrod, with Jim getting one in the mid-20's and Art one in the low 20's. "I'm ready", I thought. Little did any of us know that it would be another four hours before any of us touched a fish.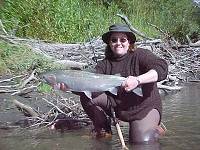 The rain finally ceased around noon, but the river was rising again as evidenced by the stick that Art had stuck in at the water's edge when they arrived ... and things were getting a little too high for even the 400 again. Corey caught the only other fish in the Yoda as we let her creep into fly water and fling her special over to an area where we had seen a fish rolling for awhile ... but out of reach of the flyrods. A fitting moment as she hooked the fish just as the skies turned blue and the sun shone down upon us. As two o'clock approached, and Jim had yet to give up on his flyfishing efforts (he doesn't fish any gear at all), Art moseyed back up to Mickey's (and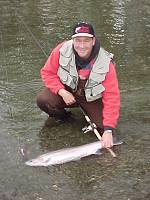 soon hooked another fish there on his pink hoochie special) and Fishgal and I headed down to the Timbers hole and found a fish apiece (mine on a conehead, hers on the special) to top off the day.
Perhaps the highlight of the day, however, was the word I just got that the Huskies beat Miami today :) :) :) Not sure of our plans for the morning, quite often it takes some time for the rain to catch up to us here ... gauge is now back up to 22 inches from 21 (and probably a drop lower than that before it headed back up again), so we'll keep our fingers crossed that the arrival of the Rain God tomorrow, Kent A., tomorrow doesn't do us in for the rest of the month! Late night update ... river is now at 23+ inches, not looking good :(
September 10, 2000 ... Well, Kent the Rain God did his job to blow the river out before his arrival. We got up early this morning to find the river at just over 27 inches with about 8 inches of vis. With all hope gone for the Zipperlip today, we sat around camp and made a large breakfast. Slow to do much of anything, most of us spent time tying flies and swapping stories. Fittingly, Kent and Wade rolled into camp around 9:30 this morning. Finally, around one o'clock after helping them unpack, we ventured out to the Hohlip River about an hour away. We stopped and chatted with the landowner whose property we use to access the area we fish here and ended up talking for several hours before we made our way down to the river. With just about two hours to spare before we were due to meet Art for an early dinner, we all spread out and started to work the long drift. Color was very nice, with about four feet of vis ... an occasional roll let us know there were a few fish around. Unfortunately, the fish that were in the area perhaps were on the move as they proved to be tough biters and our efforts proved to be much more futile than our day here last year in which we hooked nine fish for three of us. Throwing an arsenal of gear, the four of us worked the drift with just a pair of steelies hooked, and lost fish for the group ... one for myself and one for Kent.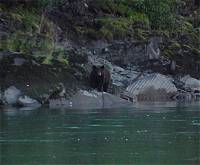 Despite the poor fishing results, we were treated to a neat sight as a black bear came down to the opposite bank of the river and entertained us for awhile. Actually, I think Fishgal entertained us more doing her bear movement acts with her swiping hands (paws) in the air ... all to let us know there was a bear across the river without shouting.
As we rolled back into camp with just a few minutes before darkness set in, we all hurried down to the gauge to find the back down to 25 inches with about 12 inches of visibility. Perhaps things will look okay in the morning, but we're all worried as there are more clouds moving in from the west spoiling what has has been the nicest weather of the trip so far. Will the river drop enough to let us fish it before the next rain moves in??
September 11, 2000 ... Rained much of the night and early this morning as the clouds did end up rolling in. Found the river this morning to have dropped down to 23 inches with roughly 2 feet of vis. Party fishing today (Art, Jim, Corey, Wade, Kent, and myself) all ventured up to Mickey's. Jim, fly-only, split off to the Yoda to try his luck while the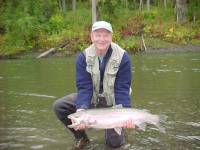 rest of us stayed put. Art had a fish to hand before any of the rest of us were even fully dressed. A nice buck in the mid-teens that fell victim to the pink hoochie.
Everybody in the group (with the sole exception of Fishgal) managed to hook one more fish each in Mickey's ... pretty much all on some sort of drift tackle in one form or another ... but only Art was fortunate enough to land his ... a hen about 10. Art ventured off to the Yoda to join Jim and the rest of us stayed behind. I managed to hook another fish on a drifted pink worm just above the break, but alas, our luck didn't seem to be improving as this fish too got away :( Corey, Wade, Kent, and myself were now on a collective 0 for 8 streak. As our action subsided here (not that we were really cooning them anyhow), Jim came out from the Yoda and we knew the hole was now open for gear fishing (as the rest of us had left our flyrods at camp again today given the marginal conditions). We quickly pulled up out of Mickey's and headed for the Yoda. Art was about 1/4 of the way down the drift throwing his hoochie and he politely let Corey step in front and Kent, Wade, and myself dropped in behind in respective positions. It didn't take Corey too long to take advantage of the prime water as she drilled a bright buck of around 11 or 12 pounds ... putting an end to our dry spell. Opening the door, no more than five minutes after she landed her fish, I found a nice hen that
everyone in front had left for me.
The floodgates then opened a bit as over the next few hours, everyone landed more fish. Kent and Wade finally were able to land one apiece and I became "worm man" and landed another pair of girls. Hmmm, I've yet to land a buck the whole trip ... strange! About two or so, we decided to go try some new water and returned to camp. Fishgal stayed in the cabin, working hard at tying us up some more gear (thanks Fishgal, we take back all those nasty things we were saying about you napping!) and Wade, Kent, and myself dropped the Puma over the bank and rowed across the tailout of the camp hole and went to the top to slowly work our way down. Our intention was to see just how much flow we had on the inside edge and if any fish were laying where they were supposed to be (slower, shallower water in these flows), but we found they really weren't. But we did manage to find two fish in the heavier water ...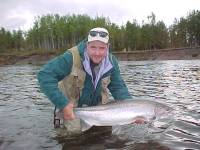 an unknown steelie that raced its way away from Wade and a huge hen that Kent landed ... probably just a tad shy of 20.
After a poor showing yesterday, we managed to go 10 for 15 today ... a whole lot more respectful! We hoping that the last shot of rain doesn't catch up with us tonight as we've been fortunate to see the river hold steady at 23 inches ... all depends how much fell upstream though. If it doesn't start rising in the next few hours, we should be okay to return to the Zipperlip tomorrow. Otherwise, we'll be making a little drive!
September 12, 2000 ... The Jeckyll and Hyde Day. The river rose to 27 inches this morning and had perhaps a foot of visibility. Art, Wade, Kent, and I mulled over our options for awhile and decided to go ahead and fish the Zipperlip rather than go elsewhere. We opted to put the boats in at an upriver ramp known as forty mile. The top half of this float is an area that I don't think we've done in a few years, but we thought we'd give it a go just to see what things looked like. We found lots, lots, and lots more water. Many of the places we used to fish up here were way too fast to consider fishing, but a couple of area still looked pretty good, but already had anglers in them. So we just stopped here and there at any areas that we know had a little depth and weren't moving overly fast. Spot after spot and zippo, nada, zilch! Even the little island drop off at the top end of Mickey's hole didn't produce. We pulled over on what was left of the bar at Mickey's and had an extended lunch. Perhaps we should have ventured over to the Hohlip, but we were happy to see what the river looked like up this way anyhow. Finally done with our lunch about one, the river had finally started to clear some and was down about an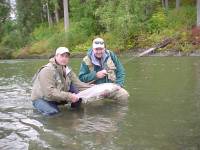 inch or so. Kent started into the hole and Art shouted "Catch a damned fish, will ya!". Two casts and he had one on! It wasn't a terribly big fish, but we were happy to see one landed. Yahoo! There was hope after all. Well, let's just say a little more than hope. This opened up a frenzy.
Not more than five minutes later, tossing a pink worm, I found a willing taker. The fish slowed worked its way upstream and never came up to the top. Wow, will I finally break this streak of hens?? Meanwhile, Kent hooked another fish ... doubleheader! After my fish changed its tune and decided to go down, down, and down some more, I looked back to see Kent lose his fish ... I wasn't going to do the same! A few minutes later I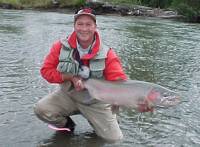 slid a magnificent buck of about 22 pounds into the shallows. Finally, a buck, and a real dandy!
It wasn't too much longer and both Art and Wade managed to land a fish. Then things seemed to dry up and noticing that it was getting late, we ventured down to the Yoda which was really ripping along ... but Kent put on about a six inch piece of 1/4 inch lead and quickly hooked three steelies, landing one. On fire he was! The rest of us just laughed as his fish would get off and he'd toss back out with a lead entry into the water that resembled a rock being tossed into the river. I made a few token casts myself into the Yoda but was feeling pretty content with the big fish I had taken above and was quite anxious to move into Killing Creek as it usually had very little flow and might fish well under the higher water flows. Reluctantly, we all pushed downstream as it was nearing four o'clock and we still had six miles of river to camp.
We began our fishing about 2/3 of the way down the drift ... nice looking water, but also pretty snaggy with the woody debris on the bottom of the hole. The rout began ...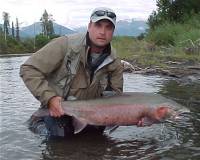 fish after fish after fish. It didn't matter what we threw out, the fish munched it! Although my worm and the spoons proved perhaps a slight favorite. Over the next hour and a half, we hooked 15 fish, landing 11 in just 50 yards of water. Three double headers and Wade's first steelie over 20, a buck of about 21 1/2. What a difference that couple of hours made! Finally around six, we had to stop ... we had a long ways to go to get to camp and it was getting late. Having to physically drag Kent back onto the Puma, we finally got downstream and to camp to have a bite to eat. The river is still around 25 inches, but we could see move high clouds moving in above the lower broken clouds we had much of the day. Oh no :(
September 13, 2000 ... The rains came this morning a little off of schedule with no overnight rain at all, everything fell in the daylight hours breaking our on-the-nose, once-every-48 hour schedule of fronts moving through. Art, Corey, Wade, and myself planned on doing the Mickey's to Mickey' float, one end of the property to the other. The river had dropped down to 24 inches or so and gotten about three feet of visibility, so things were looking good for gear, although a little high for flies where we were at. I decided I was going to give the bugrod a go for awhile today and started out in the middle section of Mickey's looking for a fish lying in close. Nice idea, but no cigar! While I flailed with the
flyrod, the rest of the crew started banging fish with gear off of the far bank.
Art started things off, and everyone but myself started banging fish on gear ... I was going to stick it out for awhile. I loaded my stuff up in the Puma and rowed across the head end of the hole to a barely submerged bar that had a nice slot on the far side of it. It's a spot that we've done pretty well with light lines when the water is lower, and it looked pretty good today. For two hours I worked the spot with a variety of flies, and with no one following me in it, very slowly ... but there seemed to be no one home. Meanwhile, the rest of the group seemed to hook-up about every ten minutes or so in the main portion of the drift. Okay, I give! I broke out the gear rod and worked my worm down through all the area that I had flogged with flies ... still nothing ... okay, maybe no one is home. So, I finally hopped back into the raft and ventured down to the rest of the group ... just in time for something to turn my stomach and give me the chills. Yuck ... okay, break time. We decided it was time to give up on Mickey's as the action slowed and we had obviously sore-mouthed most of the eager biters, so down to the Yoda we went. My stomach was getting worse, so as everybody started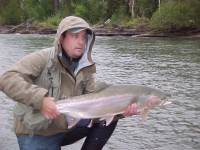 working down through the drift, I opted to take the car back to camp and sleep despite the good fishing. A few hours of sleep later, I went back up to grab the group ... to make my day even better, the tire on Art's truck went flat as I pulled up. Great! I now know how to give lessons in changing a tire while avoiding cow patties scattered every couple of feet ... serious showers and clothes washing for all! I knew I was leaving some good fishing today, but was really surprised to hear just how good it was for them ... 26 fish landed, countless others LDR'd and on-and-offed. Just gonna have to wait for my turn on Thursday! The river still looks good tonight with a height of 23 inches, but I'd expect a rise overnight as water catches up down here. Don't think it's gonna blow as the rain wasn't super heavy, but it's not looking good for flies in our favorite area and despite reports of some being caught down down n the Pea Garden area, there are lots of folks in there, so we'll we'll just keep catching them on gear until the water drops some ... but the question is, will it??
September 14, 2000 ... Another fine day on the Zipperlip! Feeling much better this morning, it was time to catch a few fish! Water level stayed pretty constant overnight, but is on a slow rise this morning with the height at 23 inches when we got up, although early risers said it had been down to 22 first thing this morning. Things started on kind of a sour note as we went in to repeat our "long float" of yesterday and found the field access to our launch point closed due to the wetness of the field. So, back up to fortymile we went with the boats. Big problem was five anglers with one 11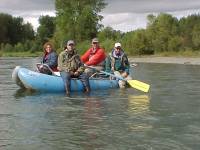 foot Puma and Art's "Rubber Ducky" Sevylor raft. So we loaded four us onto the Puma, drafting about a foot of water and headed off through about six miles of water before we got to where we wanted to be. We did make one quick stop at a good feather flinging area for myself and Art, and the remainder of the crew ... Corey, Wade, and Kent fishing a pretty good slot just upstream from us with gear. Art and I found the water to still be blasting through the area we wanted to fish, but Wade and Kent both found a fish apiece on gear in the soft seam they were fishing above.
We got into Mickey's hole around 11 or so with just a couple of hook-ups so far. But the sun came out and the water level seemed to start dropping and the bite was on! I tried to fish the bug rod a fair amount today and just didn't really have the water for it, but I was determined to give it a whirl. First pass for me, nada; although Art and Kent managed to hook a couple of fish. Next pass, I abandoned the bug rod and came back through with my worm and picked up a small hen off the far bank. But that was about it for the action in here. Jim R. came up from the Yoda (he got into the hole before the road closure) and told us that he'd hit a fish on the fly below and was headed off elsewhere as it really was still flowing too fast. So, we had a quick lunch and headed downstream.
I led the way working a hot pink bunny leech down through the drift ... probably only making it half way to the bottom ... so as the action really kicked into gear behind me for the rest of the group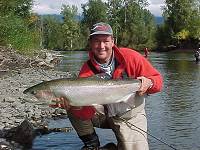 tossing a variety of gear, I set aside the flyrod and went back to being "worm boy". First cast, whamo ... an incredible hen of nearly 20 pounds that cleared the water eight or nine times.
Things really cut loose after that! Working in a line where the lead angler, upon catching a fish, went to the rear ... it took us nearly two hours to work through 100 yards of water. Two doubles, a triple, and fish after fish hooked with a good number making their way to the shallows before being released. Finally, around 4, Art headed off for camp as he had dinner plans and the rest of us headed for Killing Creek.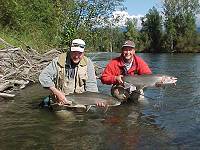 Corey, having been a little slower action-wise so far today, really showed the boys up in here! I vowed that I wasn't going to give up on the fly quite yet and made my two passes with the bugrod, actually getting one good grab, but no solid hook-up. But behind me, Corey seemed to have a fish on every few minutes ... above Kent and Wade, below 'em, inbetween, it didn't matter. She went from Spoongal to Wormgal in a matter of minutes hooking six or seven fish in nothing flat, including a nice buck of around 18 or 19 pounds. Kent and Wade didn't get shut out, but it was Fishgal that came back with a vengeance in our last hole of the day. From there, we ended up rowing straight down to camp. With an hour of rowing time we went back over the action we'd had. 21 for 35 for the five us today ... not too shabby! Now, if we can get that water down to a good buggable level in these holes, things would be perfect!
Our arrival at camp found many new arrivals to camp. The first of the old, old timers to camp, Fred and Mary Ellen came in, as did Greg N. as well as a few other new people. Things should be pretty full in the next week or so, hopefully just in time for some good water conditions ... the stars are out tonight. How long will the weather hold??
September 15, 2000 ... Curse of the Angry Cows. Planned on heading out early this morning ... most of our start times have been around nine or so. Today, however, we met at 6:30 to head out. A big surprise though as we checked the gauge and found it at 26 inches ... up three inches! Whoa, where'd this water come from??? In addition, the visibility was cut to about two feet. Oh well, we'll give it a shot anyhow. Went up to Mickey's as it hadn't rained and we were allowed back across the field. As it turned out,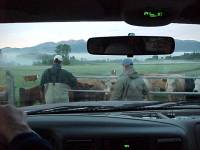 this might not have been a good thing as this year's calves were taken and sent to market yesterday. The result ... one mess of very upset cows waiting to greet us. We sent both Kent and Wade out of the truck this morning to open the gate and do their best to shoo the milling, mooing cows away from the gate. Although we made it through the gate area in one piece, one cow lifted it's tail and emitted a spell as we passed on ... now we were really in for it!
We headed into Mickey's and found the bar nearly completely covered in water, Yuck! To top things off, we had a hard freeze this morning and Corey, Art , and myself sat around and drank coffee while we waited for things to warm up and let Kent and Wade work the hole over to see if the fisheys were going to bite in these less than favorable conditions. Work the hole we did, and all we managed to scrounge up were a couple of short-distance releases for Art.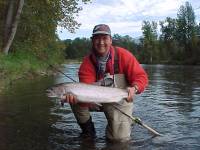 Around 10 or so, we headed down to the Yoda and found the flow a tad better in here, but the fishing even slower. Apparently the Curse of the Angry Cows was turning out to be true. Wade managed to roll one on a spoon and I picked one up on a worm right at the break. But the activity was a mere fraction of what we'd had in these holes the days previous. Some super weather coaxed us into an early lunch break and then we were off to Killing Creek.
Rather than rowing down from above, we opted to drive back through the field and let Bob play Ferry Boat Captain taking Art,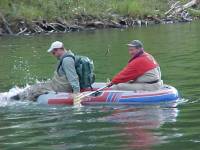 wade, Kent, and Corey across the river one at a time. Safely across, we did find some willing biters. But under the Curse of the Angry Cows, we put on the most pitiful display of losing fish and gear that any steelheader will ever see. Personally, I went one for five in the hole. Fishgal, seeing limited fishing time today ("I'm cold!":)), somehow managed to stay perfect in here. Art did too, managing a one for one performance ... but he wasn't immune to the curse as he left about half the contents of his vest on the river bottom over the course of about half an hour. Meanwhile Kent and Wade, working the last little bit of the tail with lead feet, must have hooked 12 or 14 fish, landing perhaps a third of those. In several cases, hooked fish shot straight down over the break into a chute and hung the lines a nasty rootwad a little ways down. Those fish flat out opened up a can of whoop-ass on us!
We finished up around 4 or so and headed back to camp under some thickening clouds. The water remains at 24 inches, so any sort of rain could spell disaster for Kent & Wade's last day here tomorrow.
September 16, 2000 ... Wow, the fly rods actually got some use (with success for some) today! River dropped to 21 1/2 inches overnight with excellent visibility of about 4 1/2 feet. Broken record for our game plan today ...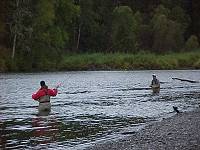 Mickey's to Mickey's. Kent and I decided to spend much of our day flyfishing whenever possible ... we started with Wade and Corey at Mickey's, Art went down to the Yoda with Jim. For the third day in a row, Marty's turned out to be slow for us with just myself and Corey getting fish ... myself only after a couple of passes with the bugrod and then switching over to gear.
We then made our way to Yoda and found that both Art and Jim had hit fish on the bugrod in here, Art touched two, landing one, and Jim lost one of his own. Excited, Kent and I quickly hopped in with flyrods and worked the hole over, nada. Art and Jim also worked the lower half with us as Wade and Corey worked the upper end of the drift with gear. For two hours, still nothing! Although for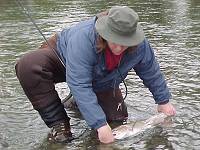 the first time, I was actually able to tick a few rocks on my drifts with the 400, so things were at least being worked with some degree of effectiveness.
After lunch, Jim said "Have at it." and everyone switched over to gear. But the fish either weren't in here today or weren't much for biting as, even with gear, only Corey managed to hook anything. Oh well, maybe Killing Creek.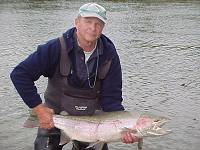 This turned out to be a fly bonanza this afternoon ... at least for Art, and to some degree, for Kent. Art, working a 400 with a very heavily weighted fly was able to soak down near the bottom long enough to hook and land four steelies in Killing Creek, including a nice buck around 20. Kent finally managed to land a couple of fish on the flyrod ... a hen of about 10, and a buck of around 13 ... say thanks for your fly Kent ... the Bob Bunny Blob.
It just wasn't my day in here, I managed to hook two on the fly ... but both were released well too early :(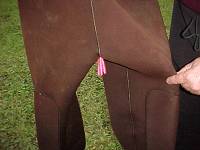 Greg said the Upper and Middle Pea Garden were fair ... with his group just getting a fish or two apiece. But Greg did share with us an excellent way to mend a big barbed wire tear in the crotch of your waders ... stuffing it with pink worms! Claims it slows the intake of water by 90% ... looks illegal to me though!
River seems to be holding steady tonight ... but we've had some showers off and on all day so we're all REALLY hoping that the river won't rise too much as we've finally got some water conditions suited (to a degree, anyhow) for bugs. Last day tomorrow for Kent and Wade (who unfortunately, got the dreaded shutout today), so we'll hope they find some good fishing for a memorable sendoff!
September 17, 2000 ... The Great Flood ... Well, Kent and Wade got their memorable sendoff, and the Rain God did a number on the river for us before he left. Awoke this morning to hearing "Oh my's!" (and a number of other phrases way too blunt to be repeated here) outside our cabin. Stumbling outside working over a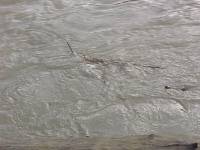 quart of Bob's special coffee and one of those Costco muffins, we found there was just four inches left on my gauge, 32 inches. An hour later, we had just an inch or so of the rebar holding the yardstick in place. Kent and Wade said "enough" and hit the road. Good timing, they needed to go home to their wives. In four days, neither one of them washed a dish and a pan that had sat as a reminder of this fact (and was perhaps a symbolic form of adulthood camp-based male bonding) was finally washed by Wade before departure. In addition, in preparation for next year, maybe their wives will remind them that it is normal human behavior to shower at least once during a week-long fishing trip:) P-U!
Our buddies Tom and Joe, here last year, pulled in to take their place in Cabin 4. By 10 AM nothing was visible of the gauge at all. Took off around noon to play some golf ... this picture probably looks familiar as it's a similar one as we took last year. Jim, Joe, myself, and my caddie, Corey managed to stay dry the whole time while dark clouds weaved around us on the course. At least the Golf God was looking out for us! The Fish Gods sent us a message ... I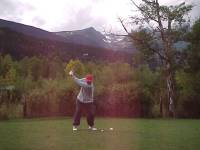 thought I kept hearing "Build an Ark, Bob" over every putt!
As we pulled into camp around 8 tonight, the river is far and away the highest I have ever seen it. I'm not even sure my gauge is still in existence under all that water. I would honestly guess the river is up at least four feet. Gone for at least three or four days. Even the Hohlip has turned to mud. Looks like I'll get my fly tying in, perhaps a day or two of serious sleep, and certainly some more golf. But we may have some fishing pictures from Lake Margaret ... the crown jewel of the fishing world for stunted cutthroat!
September 18, 2000 ... The Great Wait ... Not much to write this evening. River crested around 5 this morning and has been dropping all day. Currently down about 20 to 24 inches, it still has several feet to go. Not sure if the gauge made it though as reports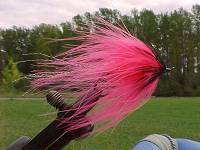 have it that a full Cottonwood came down the river directly over gauge position, and based upon size estimates of the trunk, the rebar probably got hit by the tree. Most everyone in camp spent the day eating, sleeping, and tying flies. Myself, just the eating and tying part ... perhaps a little more of the sleeping overnight as we're not going to be in much of a hurry to go anywhere for a couple of days. Guessing two, maybe three more days before we can even think about fishing the river again :( Oh well ... such is a normal part of life on the Zipperlip this time of year!
September 19, 2000 ... The Great Wait Continues ... Hey, hey ... my gauge did survive. The first portion of the rebar appeared this morning, and although bent over some, it is still in place! Not low enough to get any sort of a measurement off of it yet, but I'm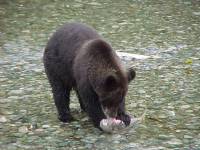 happy to see that it's still there. River is likely going to need another two days before it's fishable. Today we (Joe, Corey, Sue, Art, and myself) went down to an area where some people said they had seen some grizzlies, and sure enough, besides seeing some blackies on the way there, we got treated to a show as this griz worked over some older chum in a tiny river.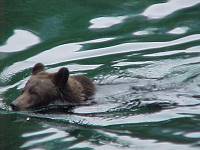 For nearly an hour, we got to watch this bear tromping up and down the river feeding on dead chum ... although the biggest treat was when he crossed over into a slow pool and started swimming around with a pod of about a dozen or so chum. We got some great video and stills of this. Look for some of this video on the site later on.
Not only were we treated to some neat views of the bears and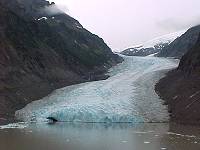 spawning fish, we got to see some pretty spectacular country as well, with tons of glaciers and some neat wild water that we might have to take on in the inflatables some time.
We also found the neatest little restaurant with tons of old coffee grinders and a huge collection of ancient toasters ... lunch was pretty darned good too and I even got to somewhat appease my pizza craving that I've been having.
Returning to camp, we found the place had pretty well emptied as Cole and Steve headed back for Seattle, Fred and Mary Ellen headed back to Poulsbo, Dave and his gang were on their way back to New Zealand, and some of the others that had just shown in recent days on the RV side of camp were also long gone. A little rain beginning tonight, hopefully, it won't be enough to stop the recession of the waters as we're probably going to be able to fish on Thursday.
September 20, 2000 ... The Great Laugh ... The gauge is fully back in operation with a reading of 30 inches and about 8-10 inches of visibility this morning. The rain we saw begin last night lasted pretty much throughout the whole evening. Looks like one more day down the tubes for fishing on the Zipperlip, and we're not going to venture to the Hohlip today (others are). But wait, we found a suitable alternative ... we took Fishgal out for her first round of golf today.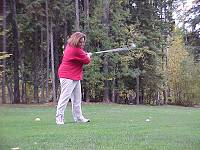 Very, very interesting. Joe and I have to give her credit though, she counted every single stroke, whiffs, penalties, etc. and never gave up.
Joe and I played alright on the front, but the wheels kind of fell off on the back side. Corey, whacking away, did her best to set a new course record, 172 over par ... carding a 244. Jeesh, we ran out of fingers and toes a few times and heard a variety of expletives from her that we didn't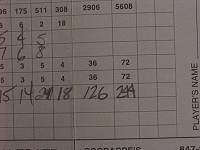 even think she knew ... must have been all that hanging around with Kent last week.
Arrived back at camp with our bellies full of a double-dose of McDonald's AND Taco Bell to find the river nearly exactly the same height as it was this morning. A little better vis, though. Perhaps last night's rain kept things stable today and we'll hopefully see a drop tonight as things are clearing and it's pretty cold.
Just got word that a couple of the local guides ran trips today on the Zipperlip ... sure hope the clients begged 'em to go, otherwise, they need to call themselves "Jesse James Guide Service". Tom and Ron just got back into camp after fishing the Upper Hohlip and reported that they landed 14 fish ... most steelies, and a few coho. Happy news! Maybe they'll back out on their vow to leave if the Zipperlip isn't in by morning!
September 21, 2000 ... Return to the River ... Not in any great hurry this morning as things didn't look too terribly good yet. But after a check of the gauge at just under 28 and about 12-14 inches of vis, we decided to go up to Killing Creek mid-morning just to get back in the swing of things. Despite the poor water, we were hoping for some action here as the flow looked decent enough. Art and I decided to go ahead and go through with the flyrods in the lower half of the drift with no luck. Corey and JoJo were fishing above chomping at the bit to get into the tail with gear. Art and I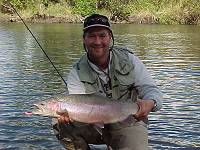 only gave the flyrods a single pass as we were really only able to fish the last little bit of the inside portion of the tail with good effectiveness. Fly pass behind us, Corey and Joe led the way through the tail and found nothing, Art and I followed behind. As Corey broke off and bailed out of the hole, I promptly hooked a smaller buck of 7-8 pounds where her next few casts would have been :(
We made one more pass through here and I managed to hook a very heavy fish ... but there was a big problem, this fish bit with its belly and as I soon realized something was wrong as I didn't feel any headshakes, I clamped down on the spool, pointed the rod at the fish and walked back onto the bank. Surprisingly enough, the 15 lb. Maxima wouldn't break, nor did the hook bend out. So I just kept going and in a matter of a few seconds we had a green hen of 18-19 pounds at the beach and Joe was kind enough to wade out a little and pop it off so that we didn't play her to death. Too bad the big 'un bit funny :(
With the lack of steady action here, we headed back across the river in the SS Ducky and went up to Mickey's to find some minor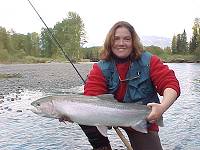 changes in the river bed and a new tree down in the top of the Yoda below (scars of the high water), but found the fish to be exactly where they were before ... just a few feet off the far bank in the heavy water, go figure! Corey, Joe, and myself all managed to hook a fish apiece in here, but only Corey and I managed to get ours to hand. Mine was a hen of maybe 10 pounds that fought like she was 20, Corey's was a nice teener hen that had just a hint of blush to her.
Art, falling victim to the "I kicked everybody's butt last time, so I won't get one today" syndrome had a rough time getting his Winona to deliver his hoochie concoction to the far bank and went fishless ... but I'm sure he'll be back with a vengeance VERY soon.
River's down to 25 1/2 inches tonight with about 18 inches of visibility. Things are quite cold tonight with clear skies (not able to get the first game of the M's homestand on the radio though), so we should see a decent drop overnight and hopefully some better fishing tomorrow.
September 22, 2000 ... Corey kicks our butt! ... Cold night last night, looked for Northern Lights a couple of times in the first fully clear sky we've had but they never materialized. The river looked much better this morning with over two feet of visibility and a height of 24 1/2 inches. Art's wife, Sue, decide to join Art, Joe, Corey, and myself today, so we had quite the gang that headed up to Mickey's. Joe, fishing the drifted worm, hooked up with what we think was a pretty good-sized fish right off the bat, but alas, it pulled the hook out on a snag as Joe worked the fish into the soft corner below the main drift. A few minutes later, another angler
came into the run (lucky guy, very well could have been shot by someone as he crashed through the brush leading us all to believe a bear was headed in) ... he was courteous enough to ask to fish above us, but things really were too crowded to add another angler into the drift so we opted to head downstream soon after Joe yanked a fish out from behind the newcomer. We were all happy to see Joe get a fish as most of his trip was shot due to high water and some mediocre fishing yesterday, followed by the bad luck on the first one that he had hooked this morning.
We found the fishing in Killing Creek to be a little better. Art, Joe, and I started mid-drift with our bugrods and slowly worked our way down. Corey, thinking she and Sue had been sent to the Fisherman's Dungeon ... the upper end of the drift ... kept yelling down to us mockingly "There's lots of fish up here!". Not five minutes later, we hear splashing behind us ... Corey was into one! Needless, to say, we reminded her that there WERE lots of fish up there!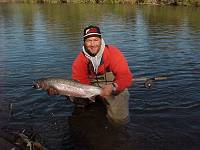 Not much seemed to be going on, so we took a lunch break after we all finished our pass. Art and Joe opted out of the buggrodding and went back behind the gals. I wanted to give that tail one more shot and hopped in below Corey as we opened the gate for gear in the lower hole. It took just two casts for that Costco muffin to work its magic ... a nice cast and some power mends to get my black and purple bunny leech down to the bottom and I had my turn! Not a huge, or great fighting fish by any means, but I finally was able to get the skunk off that new flyrod I've been toying with a little bit so far this trip (more WILL be coming!). No sooner had I slid my fish into the shallows, Art was working on one of his own up high ... a little flurry in the works. Sue followed suit and landed a nice buck of her own to the delight of us all. Corey also continued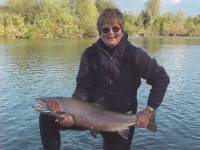 the flurry by landing another fish in the tail at the last of her pass ... a buck of maybe 12-13 pounds, and then continued her hot streak with a hen of about 15 or 16 pounds near mid-pool on her next pass.
As things slowed back down in Killing Creek, we went up the the Yoda and found Jim still there from first thing this morning. W were surprised to see him still there as he reported just one fish so far. Well, make that two ... moments later, he hooked and landed another. Art and I joined him in the lower half and the rest of the crew went up top working the new seam that formed off the large cottonwood that fell in during the high water.
Corey kept at it, landing a dandy hen of 15 or so pounds. A couple of good jumps to start with, then some serious tug-o-war before Corey eased it into the shallows. Joe finished off his trip with a near-twin of Corey's fish ... again on a worm. The gear show seemed to be strictly worms today ... no action at all for the limited action the spoons saw.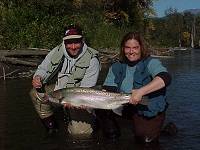 Art and I both managed to tie into a pair of fish apiece in the lower end of the hole on flies, but alas, all four were lucky enough to escape without giving us more than 10-15 seconds of excitement each. Jim followed suit, losing a pair of his own ... damn! We're snakebit now! Oh well, we opted to call it a day around 5 and headed back to camp to find the water just a tad above the lowest level we had just before the high water. Tomorrow should see the lowest water level of the trip for us and hopefully some more flyrod action as the water improves.
September 23, 2000 ... Bob's Stalker ... The river looked very nice this morning with the lowest level we've seen to start a day (21 1/2 inches) and roughly 4 1/2 feet of vis. With Joe, Tom, and Ron leaving out, it was just Art, Corey, and myself heading out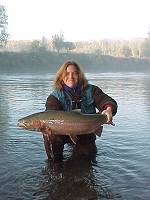 bright and early this morning. We arrived at Mickey's to find the angler I mentioned yesterday already in here. This fella, now known by the moniker "Bob's Stalker" around camp due to the circumstances of his appearance in these holes over the past couple of days, was fishing gear in there, so we opted to head down to the Yoda so that Art and I could fish the bugrods today. We sent Corey up high and Art hopped in about a third of the way down as I opted to start my day "right" and redo the nailknot on my 400. Before I even dug out all my leader material, Corey was into a nice fish that towed her down to where I was for an easy photo op of her and the nice buck.
Art, meanwhile, managed to snap off a couple of flies on some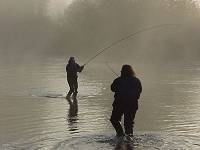 boulders in the nearer part of the drift and started talking about starting the day "wrong". This didn't last too long though as he tied on another fly and within a few swings he had hold of a pig. Corey, working her conehead through the top portion again, doubled the two of them up and promptly went whizzing past Art, under his flyline, and downstream in hot pursuit of her fish. Corey landed hers down below, but Art was still playing tug-of-war, and did for about 10 or 12 minutes before he finally slid a monster buck up into the shallows. Taping out at roughly 41 x 22 inches, the fish was nearing 26 pounds and carried the classic Zipperlip doublestripe.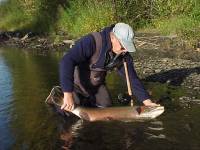 Great, all this action, and I'm not even in the water yet! But I managed to finally get my feet wet and it took me all of one cast to hook a fish ... but it also only took about five seconds to lose him. Jim and a couple of his friends then came in and joined in the bugtossing.
I continued my way down through the drift and hooked two more fish, finally landing my third, a colorful hen of about 10 pounds, hooked on a fly we now call Bob's Blob ... can only name it after I've caught a fish on it.
Things were a little crowded with five of us flyfishing, but Corey had lots of room up top and managed to bang out another couple fish.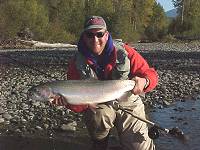 The five fly anglers rotated in and out of the hole and over the next few hours, I managed to land a couple of more steelies, one about 10-11 and another around 15.
Bob's stalker came down just after our lunch break to let us know that he was headed out and Mickey's was "open". We hung around for a bit and traded stories in the warm sunshine that had us all stripped down to our last layer.
Thinking that Mickey's was open and rested for a couple of hours, Corey, Art, and I decided to go up a give it a try. Coming around the corner though, the stalker was back in the hole, so Mickey's was out again ... we decided to drive across the field and hop into Killing Creek, well Greg and Mike had just pulled in there, so we headed back up to where we were for one more pass. Art eeked out a fish, I had my shot but perhaps spent a little too much time deciding whether the tugs were grabby rocks or something else. It WAS something else :(
A super day overall, Art and I landing 6 on the fly (the three of us went 9 for 14 overall), a pig in the mix, the prettiest day I've probably seen since last summer, and a dropping and clearing river. Hoping for more of the same on Sunday!
September 24, 2000 ... Jason Arrives ... Short report tonight as I've still got a lot to do this evening and it's getting late ... like a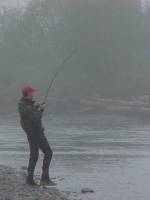 shower to soothe this fuzzy face I've been sporting for about 10 days now. Our old friend Jason rolled in late last night and spent most of the day fishing with Corey ( 1 for 2) and Sue (0 for 1 ... oh no!) in Mickey's and managed to get a couple of fish his first day. Art and I joined Jim and Gordon in the Yoda and spent the whole day flyfishing ... things were a little quieter overall today with Art landing one - hit five :(, Jim a couple, and myself getting a couple of hens in the ten pound range.
I did manage to pull off one of the strangest landing jobs you'll ever see today ... and something I'll likely never do again as long as I live! Just after lunch, that Costco muffin worked it's magic again and I hooked a fish on one of my purple/black bunny leeches my first cast back into the drift. The fish was coming in fairly easy and I nearly had it to the bank. Then, as it's belly hit the shallows, it ran back out into the current and made a number of wild leaps. All of a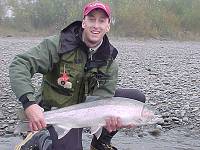 sudden, I had no control over this fish and it raced downstream with me sloshing through the shallows after it. Art and Corey offered to come down with the camera thinking it was a big fish, but I said "No, it's not very big ... I must have snagged it." As I caught up to the fish and put cross current pressure on it, I saw that the line was leading to the middle of the fish. I got downstream of it and clamped down on the spool and worked the fish into the shallows just as quick as I could. I was amazed at the sight before me. The fish WAS hooked in the mouth ... but there was an overhand knot drawn tight around the middle of the fish. A fair hooked fish that, in the middle of those leaps, tied a knot around itself! Absolutely one of the most bizarre things I've ever seen!
Another funny thing today ... finally got checked by Fish and Game, only to hear that the previous day that an Idaho Fish and Game Commissioner got nabbed for barbed hooks ... a $150.00 no-no here.
River looks very, very good this evening with the level at 19 inches. Should see some more decent action tomorrow, but the energy level needs to bounce up for everyone .... we're spending half the days on the bank drinking coffee and enjoying the very warm weather that has graced us the last few days rather than fishing :)
September 25, 2000 ... Revenge for the fish ... A bright and early start for us this morning ... perhaps that's what led to our miscues and goofs that helped out the fish despite their best efforts to jump on a few of our group's hooks ... mine included. Art and I went into the Yoda and Corey and Jason into Mickey's. I finally got first pass in the hole after being overly generous the past few mornings, but alas, I blew my first chance at a fish as I got hit on my first strip in after a swing near the tail. I went back up top and started in again. A third of the way through the drift, I hooked a very heavy fish with large, slow headshakes and worked it for nearly 10 minutes before it worked itself loose from the fly. I think my big 'un got away :( Jim joined us about this time and we began our standard rotation through the drift.
Every pass, I managed to hook a fish. Every pass, I lost a fish. Some quickly parted ways, others took a little longer. I found a new hot fly today, a variation of the Green Butt Skunk that Corey helped me dream up ... thus the name Corey's Cooner. The fly accounted for all but two of my hook-ups today.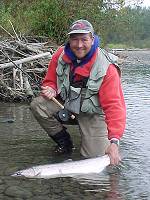 Jim and Art picked up an odd fish here and there, but they too had the lose-y's, a frustrating time for all.
The 400 seemed to be awfully grabby by late morning as the river had dropped a little more and we were kind of on the edge to begin with. So, I opted to abandon the 400 and switched over to a 300 and swapped out my 10 for 9 for a 10 for 8. One cast and Corey and Jason popped out of the woods, along with my Magic Muffin ... no sooner did Corey walk onto the bank with my muffin, I was into another fish, this one my sixth hook-up, and guess what ... one actually made it all the way to the bank. Never again will I fish without my magic muffin here on the Zipperlip.
They had managed to land a trio of steelies and a few coho in the pool above on a variety of gear ... coneheads, aeropuffs, and brass spoons. They started in at the head end of the Yoda without a whole lot of activity save for a single steelie for Corey on the conehead. Without the top end fishing well, they ran down to what we call "Trouble" and managed to each land another fish.
Our steady action in the Yoda on bugs continued as we all switched over to 300's and were able to make a cleaner swing through big submerged rocks that we can now reach on the far side.
I even managed to make my day a little more respectable by landing two of the next three fish that I hooked (an ugly 3 for 9 today for me on the bugrod), but no one in the group landed anything of any size today ... seems to be a little shortage of BIG fish around although I did hear of a report of a monster 30+ fish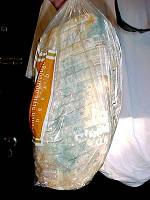 from the pea garden area a couple of days ago.
Gonna be a short day tomorrow as we have about 75 razor clams to cook up for the annual party at Peter's. The river is nearly perfect color right now, though running cold and still a tad high ... gonna have to get an early start to take advantage of the conditions before our cooking frenzy begins ... speaking of which ... look at this great camp food we're enjoying!
September 26, 2000 ... The Great Clam Feed ... Short day of fishing today as tonight was the annual bash at Peter's. We did get up this morning and head up to the Yoda for a few hours of fishing. I managed to make two complete passes through the drift,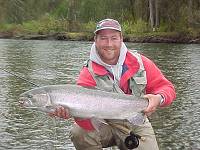 still working the T-300 and Corey's Cooner through the softening flows. I managed to land a pair of steelies, a coho, and lost a couple of other fish in the short time we were fishing. Fishgal managed a couple of fish too, one in the top end of Yoda, and another down in trouble ... the conehead continues to knock out a few fish for her. Jason didn't find any willing takers for his aeropuff in the top end of Yoda, but he did find a nice buck of 37" in Trouble working on Corey's leftovers.
The sun finally broke out just about the time we headed back to camp to work on our dinner offerings ... 75 razors, a couple of
pounds of smoked sockeye and halibut, as well as a nice cake that Corey cooked up in Art & Sue's oven. The nice weather allowed us to cook the clams outside so, for a change, our clothes won't reek of razors for the remainder of the trip.
Turnout at the party was a little lighter than normal, but the clams were gone just as quick as ever! As good as the food and company was, Corey's favorite highlight was Gene's graphic description of how they give cows pregnancy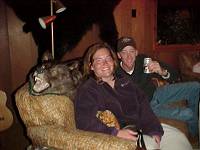 tests ... "They don't really do that, do they??" Peter was an awesome host as usual ... wish we'd had a little more opportunity to visit with him the last few weeks at our Cocktail Hours, but without Jim and Nancy here, there just doesn't seem to be the same enthusiasm for our daily get-togethers as in past years.
Gonna be a short night tonight as we always stay up far later than normal on this much-needed evening of feasting and mingling ... and a little (too much?) drinking for some!
September 27, 2000 ... A girl, a fire, and a Magic Muffin ... Lots of lights still dark this morning in camp ... typical aftermath of Peter's Party. Jason, Corey, and I ventured back up to our usual haunting grounds and started in at Mickey's. With the water level down to 15 1/2 inches, the tail looked low enough to flyfish well and the big fish rolling down there enticed me into staying here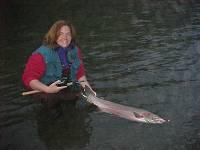 instead of venturing down to the Yoda. I found the hole to not be nearly as receptive to swinging the fly as in past years, and extremely grabby through much of its length. Corey too found some grabby stuff, but a little more animate than the beaver gnawed sticks I was finding. She managed to hook three on gear right behind me, but only managed to get one of 'em in ... but it was a dandy fish of around 18-19 pounds.
Jason hung around to fish this some more (landing one) while Corey and I went downstream to meet up with Jim, Art, and Sue. Jim and Art were about 2/3 of the way down through the fly water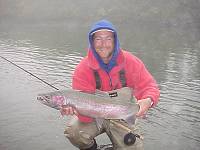 and Sue was up top teasing fish with her hoochie.
I stepped in the top end of the fly water and only made a half dozen casts or so before hooking a relatively acrobatic (they really haven't been lately with the cold water) buck of about 9 or 10 pounds. Corey's Cooner is still the hot fly for me! Going to have to tie a few more before I go to bed tonight!
Things were a little pokey for us in the fly water, but through the course of the morning, Art and Jim found a fish apiece too ... Art's a nice buck of around 17 or so.
Corey continued her hot hand at hooking in the top end of the hole, hooking another large fish that made one great leap and a run upstream before spitting the conehead back into the river.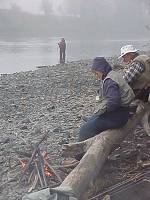 We decided that it was time to "get the girls into Trouble", but Sue made mention of how nice a fire would feel in the cold, damp air that had settled into the valley overnight. With a dare from Corey that I couldn't build us a fire without kindling ... spelled G-A-S in my book ... I embarked on a mission to build us a fire. It took a little work and scrounging for dry material, but before too long, we had a nice fire to warm up around.
Corey decided it was time to have one of those Magic Costco muffins as we sat around the fire, and upon finishing the muffin, she decided to make a few token casts into the top of the hole again while Sue warmed up. Three or four casts later, the muffin worked it's magic ... and a whole bunch of it. The fish seemed to be playing Corey through much of the fight, but in the end, Corey slid a "toadly" (yes, that is a word in our fishing dictionary) into the shallows. Approximately 25 1/4 pounds from the measurements, 40.5 x 22 inches ... one of the biggest steelhead she's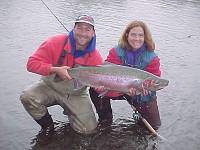 ever landed.
The girls finally got into Trouble, but found no willing takers there today. With the water level getting down, we decided to make a run down to Cable Crossing to see how things looked there. Some major changes here ... our road into it was gone :( and water flow, albeit high, was just not the same. Art and I flailed with the bugrods for a few minutes in the bottom half, but things were really just too fast to fish it well this way, so after another group conference (AKA a BS session), we all hopped in with gear and made the fastest pass through a hole ever witnessed. Corey did manage to hook one in the inside corner half way down the hole, but she must have used up all her luck as the fish slipped away unseen.
Everyone was ready for dinner and the group was walking back to the car yelling "See ya Bob" as I hooked up with a fish in a small flat area that has always held fish under high water flows. "Just as soon as I reel in this fish", I yelled back. This got everyone to stop in their tracks, but the fish wasn't as cooperative as I'd hoped and the pink worm lost it's grip on the fish's mouth. Damn, that would've been cool, just as everybody gave up to yank one out just steps below where they'd stopped :)
Big weather change tonight with a little rain and windy conditions. The gauge was just above 15 inches, may not be that low for long :(
September 28, 2000 ... Our luck runs out ... Really late start this morning. A little rain awoke was from time to time last night, but we've seen no change in the river so far, but things have really started to get ugly the past few hours, so we expect that to change not too far in the distant future. We opted to go do a float on another area river today, a short float, in what is perhaps the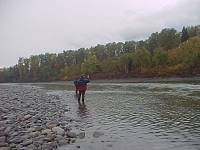 world's snaggiest water. Despite the higher water we found, Art and I stuck with the bugrods most of the time, with Jason and Corey working spoons over the grabby bottom. Corey was the only one to even touch a "real" fish (Jason caught a couple of dollies) ... a nice hen in the mid-teens that supplied us with a good show of acrobatics before throwing the hook. With rapidly deteriorating weather, poor fishing (for us ... Zipper fished well today), and our pick-up rig not scheduled to meet us until four in the afternoon, the short float seemed to last much longer than it did. Gotta tie some big flies tonight as the water looks like it will probably bump up a ways on us. River is at a trip low of 14 1/2 inches at the moment, so we've still got some room height-wise, but color may be a factor and the wet weather will probably limit us to floating into the holes we like to fish as the field crossing access into Mickey's will likely be shut off. Oh well, the nice weather and decent water conditions were nice while they lasted :)
September 29, 2000 ... A girl, a boy, and a bunkbed ... As planned last night, a late rise this morning for everyone as we wanted full daylight to see what the river was doing. At first inspection, the level was hangin' in there, but color was increasing. We opted to wait a couple of hours to see what was happening and upon next inspection, the river had risen to 18 + inches from just over 14 ... the wall was coming. Scott and Greg ran down to Girly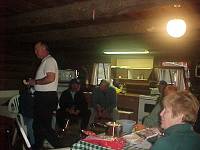 Creek for a bit to see if they could stay ahead of the rising water ... did manage to find a pair of fish, but also a lot of fishermen headed down with the same idea. They were back pretty early in the afternoon as the rising water cut their day short. They found just about the whole camp in nap mode ... Corey and myself included. Lots of people getting ready to head out on this high water, including Jason who left out mid-day, but the rise shouldn't be too bad (we hope). Extended (with large turnout too) cocktail hour this afternoon, and may be a bigger one tomorrow as we're trying to get a satellite dish set up to get the Husky - Ducks game as the water is now at 25 inches and still rising. Going to make it short as the skies have cleared tonight and we have our first look at the Northern Lights of the trip!
September 30, 2000 ... Sad Faces Everywhere ... Water this morning is very nearly to the top of the yardstick, about 35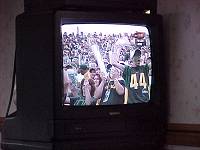 inches. So no fishing to be had today. We were treated to a nice light show in the sky just before dawn though, with last night's hinting of the Aurora Borealis turning into some pretty wild pulses of light this morning. We spent Art & Sue's last day here with them watching the pitiful performance by the Huskies in Eugene. Almost glad that we lost the signal in the waning moments of the game so that we had no choice but to look for another channel. Watching lots of people pack up this evening ... Fred and Mary Ellen, after taking a short leave of absence from camp earlier, are gone for good. And our neighbor in Cabin 7, Mike, is getting ready to head out too. Water has slowly dropped throughout the day, but still has a fair way to go before it's in decent shape again.
October 1, 2000 ... Fishing again, sort of ... I'm certainly not the world's biggest fan of stillwater fishing, in fact, the last time I fished a lake was several years ago in this very area. Hardly what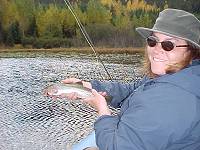 one would think of as the finest day to go sit on a lake ... high 30's, low snow deck, and some gusty winds coming and going with the frequent squalls. But, I promised Fishgal that I'd take her up to Lake Margaret for a few hours, so we plopped the Puma on top of the Blazer and headed out. The lake's surface was whipped up pretty good with the weather, but we did find some relatively calm water on the lee side of an island. Being perhaps one of the world's least proficient lake fisherman, I took a guess at the flies we ought to use (Art was kind enough to loan us a couple of boxes before he left) ... Corey opted for a spider pattern, basically natural deer hair with some rubbery legs, and it took just a few casts to find out the fish liked this one. I swapped flies for about 40 minutes before I finally found a pattern (Carey) that the fish took with regularity. The
fish in this lake are small, but quite numerous. Unfortunately, we didn't see the action that the lake often produces, but we managed to hit a fish every few minutes ... landing three or four dozen in the couple of hours we beared the weather. With the lake's population quite healthy, we went ahead and took a half dozen or so back to camp with us for an upcoming dinner ... been a long time since I've had a good ol' fashioned trout fry! The water looks much better tonight, still a little high at about 25 inches, but good enough to give the river a go in the morning....
October 2, 2000 ... And the wind whistled through the Cottonwoods ... Back to the Yoda today with some decent looking water for gear, although perhaps a tad high and dirty for the fly. Corey and I, alone at last, played around in the woods .. oops, I mean Yoda :) I spent most of the day working the flyrod, with a glimmer of hope just a few casts into the day when I hooked into something that wouldn't stop. Off I ran down the bar, all the way to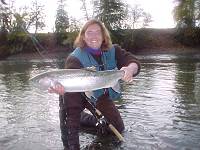 Trouble, frantically trying to gather line. Before I got too serious of a thought of swimming, the fish came to the top and I got to see the pink Bob's Blob hooked in the top of the tail of a high teen hen... a quick point of the rod and a clamp on the spool took care of that in a split second ... damn, I only had a couple of those flies left! No wonder I couldn't stop the darned thing! Back to fishing, Corey put on a show with the Pink Conehead for some Seattleites that came to pay us a visit ... after her third fish (losing a fourth too) came to the bank, I think they'd had enough of the girl beats up on boy show and off they went. I finally switched over to gear around noon, just about the time the wind started to blow and down came the leaves, not just a few, but millions, and millions of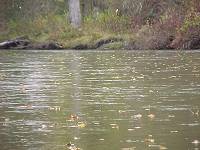 them. I managed to roll a pair of fish before things got too bad, but lost them both. Within an hour after the wind picked up, there were so many leaves in the water, you'd couldn't finish a drift without snagging at least one. With the leaves presenting serious problems and big dinner plans in town to watch the Sea Chickens at Kansas City, we called it a day and headed back to camp around 2.
Guess we should have kept trying at the fishing end, 'cuz the Hawks sure let us down ... but we had a nice dinner and a sendoff for Jim. Jack and Doris are also packed up ... ready to leave bright and early with Jim. Of the regulars in camp, just Jay, Barry, Greg & Scott, and Fishgal and myself remain ... it's lonely, and cold!
October , 2000 ... Okay, it's time to go now! ... Well, not quite yet, but that was the thought on our minds this morning! "It's a winter wonderland" exclaimed Corey for my waking moments of the day. Sure enough, it was snowing, and not just a flurry either. A good old fashioned dump! Knowing that the field into Mickey's was going to be a mess, we opted to float from Fortymile down to Killing Creek with Scott & Greg. .. hoping that we might be able to get a rig in there in take out ... or just dragging the boats across the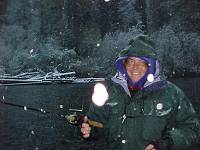 field if need be. We were all pretty gung ho to begin with, but the very cold day perhaps gave us all second thoughts before we were a hundred yards below the ramp. We pretty much ripped through the top end of the float with our honey water on our minds ... save for a fly spot or two that I was hoping to get a quick pass in. Corey and I split off from Greg and Scott ... with plans where each party was going to fish ... being I had the only bugrod of the group, I needed a little different water.
Corey and I never managed to land a fish in the top end of the float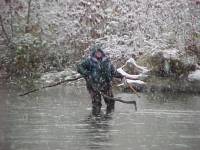 ... just a lost fish for Corey batting cleanup behind me, and the largest stick I think I've ever seen landed. She hooked the darned thing a hundred yards or so up from me, but the snow was coming down so thick, I could only see her working the rod like she had a big fish on. Out of the water I came, camera in hand, and this is the photo I get. Nice stick Corey!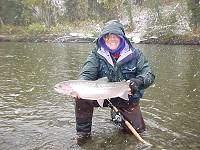 We found our Honey Water to be a little more productive ... for Corey anyhow .... I was just too stubborn to switch over to the gear rod even though it seemed like the fly fishing just wasn't the ticket for me today. Corey yanked a fish out of Mickey's with just a couple of casts worth of work. Plunging her hands into the water wasn't her greatest idea of fun, she's still trying to decide whether she wants to catch any more fish before we head out. But catch more she did today! Took three more out of the head end of Yoda ... and try as I might in here, not a take on the fly in two full passes, kind of depressing with the water in decent shape. Felt better though as Corey followed me all the way through on my second pass and just one taker on gear off the far bank (although Scott and Greg got 'em on spoons in here an hour later or so).
The snow finally let up around 2, and we decided we go down and try Killing Creek. Try and try some more, no action on the fly for me ... but after letting a guide's clients work through with flies, I "cheated" right at the end of the day with the drifted worm and managed to hook a pair of fish right off the creek mouth, but as steelhead often do, they kicked me when I was down and said "Sorry, nada for you!" Corey eeked out one more fish, finally giving the spoon a whirl. That made her five for six today ... hmmm, last day of fishing tomorrow. Do I fish the bug rod and perhaps get my buns whooped again by Fishgal, or do I pull out the gear rod and go for some paybacks for the last two days???
October 4, 2000 ... Better luck next year ... last day on the river today, was a day of blown opportunities ... guess if the M's weren't going to blow theirs, someone was going to have to :)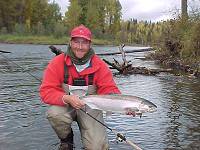 Repeated the same drift again today, but was surprised to find out later that we could have skipped the float and gotten right into our honey holes by car. Only hit one fish in the top end of the drift, came on the second cast of the day on a spoon just above a favorite little fly spot of mine that I opted to sneak a few casts into before bugrodding it for a bit. Our first fish ended up coming from Mickey's, just a small hen for me, my third chance of the day after losing another first cast in the hole.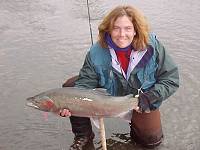 We followed a pair of fellas through the Yoda next, Corey staying up top with gear, I flailed around with the bugrod for a bit, way out of synch and just tossing the 400 into a heap mid-stream, well short of where I wanted to be. As the fellas from Seattle gave up, I opted to go try the power of the magic muffin. Almost came through for me as after scarfing it down with the last remnants of coffee in our thermos, I was like a new man, laying the line out nicely and fishing effectively. Didn't take too long for two more fellas to come into the hole ... my favorite lawyer buddy who screams about the Journal being on the web, yet he drives around LA (we think that's where he's from despite the plates from Montana) with the river name plastered on his license plate. Like my buddy in Forks, the keyword here is HYPOCRITE. As I said, the muffin almost worked, within 30 feet of my pass, I hooked a steelie and subsequently popped my fly off not one BUT two fish ... exactly the same deal both times. Guess it was the fish's day this time! Would've been cool to yank a couple out of the hole with Mr. Hypocrite present.
Corey and I finished our trip off at Killing Creek ... with a trio of lost fish for myself, two on gear, one on the fly. I ended the day 1 for 7 ... YUCK, will have to improve next year. Corey had one last chance
too, pulling the hook out of a 20'ish fish that she hit mid-pool on the spoon.
Being the last year of truly public viewing, this thing might get awfully interesting next year as I'll be able to write more about the things that might not be so suitable for public view. Sad to leave, but happy to be headed home, and this year we get a sidetrip to Reno before we head back to Forks!
BACK TO THE ZIPPERLIP JOURNALS INDEX