- More Info on Kenai Peninsula Razor Clamming -
---
---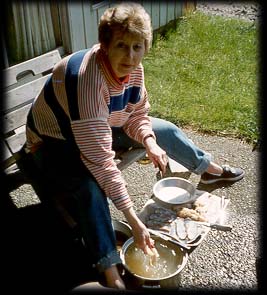 While just about everyone enjoys getting a little dirty and digging razors, most everyone hates to clean them. Unlike steamer clams, razors are not eaten whole. Instead, they are shelled and steaked out, providing a firm steak that has a mild clam flavor.
The cleaning process is rather time consuming, for most people, you can usually count on a couple of hour's work to clean a full limit. Many people choose to have a cleaning service do the dirty work, the price is usually $20-$30.00 per limit of sixty ... money well spent in our eyes!
For those guests who have booked clamming trips with us, please note that all cleaning / packaging of your clams is included.
Step By Step Cleaning Instructions for Razor Clams
A good pair of scissors with pointed blades, as well as a good paring knife is all you should need to actually clean the clam.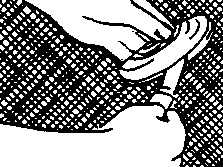 STEP 1: The first step in cleaning is to remove the clam from the shell. There are two ways in which to do this.
The first is shuck the meat from the shell by cutting the connecting muscle from the shell ... be sure to cut along the shell in order to remove the entire clam rather than pieces of meat.
Continue to cut all connective tissue from the shell.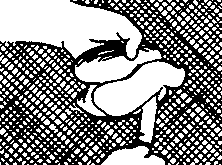 A second way to shell clams is to briefly place them in very hot water. Dunking them will pop the shell open. If you choose to clean them in this manner, make sure to place the opened clam immediately into cold water! If you fail to do so and allow the meat to 'cook', you will find that the clam meat will be 'tough' after cooking. It only takes about ten seconds of dunking time if the water is very hot. We prefer to dunk ours as the shucking process is much shorter this way.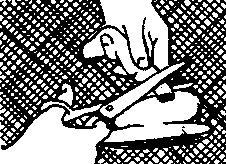 STEP 2: After removing from the shell, your first step is cut off the black tip of the 'neck' ... easy to do with a good pair of scissors. If you like to do some surf or jetty fishing, these tips make an outstanding bait ... I always save mine for that very purpose. The neck tips are very tough and give off a very strong scent.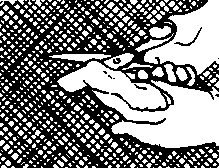 STEP 3: Working from the side of the clam that was originally near the hinged part of the shell, take your scissors and split both passages of the neck. Remove any sand or foreign matter that you may find in here. A good rule of thumb when cleaning is to remove anything that isn't white.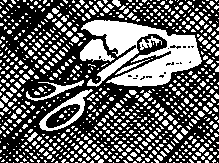 STEP 4: Your next step is to cut out the gills and palps with a pair of scissors. These are the brown structures that you will find near the base of the foot or 'digger'.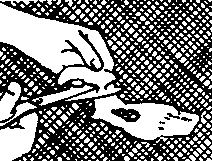 STEP 5: Pretty simple one here, remove the foot from the clam with the scissors.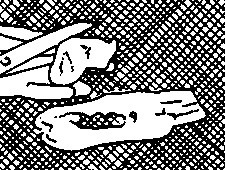 STEP 6: Completely split the digger with the scissors, and remove any dark material found within ... this is best done under running water. Sometimes, using the paring knife to scrape some this material away is easiest, just don't remove too much of the fatty material that is found within the digger ... that is the good stuff!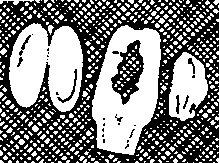 YOU'RE DONE! Now you have some finished steaks. These are excellent deep fried (see our recipe page for how-to) or used in chowder. The cleaning process is time-consuming, but you will be well-rewarded with some of the finest eating seafood you'll ever find!
---
This site, pages, and images designed by and copyright material of Bob Ball, Bob's Piscatorial Pursuits - Alaska and Washington Steelhead, Salmon, and Halibut Fishing Guides / Charters - Forks, Washington and Soldotna, Alaska, USA. Encounter any problems?? If so, please Email us.