The arrival of October always signals three things in the Forks, Washington area: the changing of the leaves, the arrival of the heavy fall rains, and the return of the mighty king and acrobatic silver salmon to the Olympic Peninsula rivers.
These fall rains bring the river levels up from their low, late-summer levels and signal the salmon waiting in the ocean off the rivers' mouths that it is time to begin the final leg of their journey home.
Anglers anxiously await the return of the salmon to the Olympic Peninsula rivers, such as the Hoh, Bogachiel, Sol Duc, Quillayute, and Calawah, anticipating the furious battles that they sometimes provide ... whether it be the blazing run of of the hefty king salmon, or the sometimes vicious leaps and twists of their smaller cousin, the silver, or coho salmon.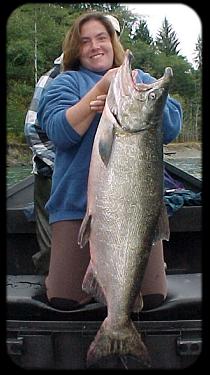 Fishgal gets after an Olympic Peninsula King Salmon
Atypical of most salmon streams, the chinook and coho salmon runs of the rivers around the Forks, Washington area typically peak about the same time, so Olympic Peninsula salmon anglers can generally expect to hook into either species of salmon on any given day.
We usually begin our salmon fishing around the second week of October and continue fishing salmon-only through about the 15th of November when our winter steelhead fishing begins and we begin running our late November combination trips in which anglers generally fish for both salmon and steelhead on the same day.
The king salmon generally average around 25-30 pounds, with fish in the mid- to high forties not at all unusual, and 50 to 60+ pound 'slabs' caught a few times each year on these rivers.
Although smaller than the king salmon, many people prefer the antics and the eating qualities of the silver salmon.
The silvers that return to the Forks area streams often are amongst the largest you'll find anywhere: silvers average 10-14 pounds with fish near 20 pounds a common sight, and some monster specimens pushing 25 pounds or better a possibility!
Because we only fish the peak of the fall salmon run, fishing dates, especially week-ends often book early, so contact us as early as possible to reserve your salmon fishing dates.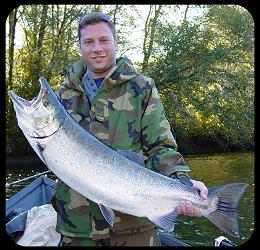 Jumbo Olympic Peninsula Silver Salmon