Just weeks after the breakup of the Alaskan winter's ice on the Kenai Peninsula, the word spreads like wildfire: "The kings are in!" Every year, the first king is caught in the Kenai sometime in late April or the first week of May.
This first king starts the fishing fervor for another year. The question on many people's minds when the season gets underway is whether or not this will be the year that the king salmon record of over 97 lbs. will fall. For over a decade, the record has stood ... someday, it will fall, perhaps to a fish caught by you!
Don-Don with a 75 lb. Kenai River King Salmon
The Kenai hosts two runs of kings: the first beginning in May running through the end of June, the second officially beginning on July 1 and running past the season closure of July 31st.
Although the world-record king was caught early in the first run in 1985, the first-run kings are, on average a tad smaller than their second-run relatives. However, fishing pressure is usually lighter during the first-run and many anglers prefer the smaller crowds during this timeframe.
No false promises: the Kenai River salmon fishery is not a wilderness experience; however, the river is still the number one choice in the world for anglers wishing to try their luck at hooking into what often are the world's largest kings.

These fish do average well into the 30's and 50 pound class fish (a trophy in every other water of Alaska) are a relatively common part of the catches.

Every season, there are a few kings over the 75 pound trophy barrier taken by very fortunate Kenai River salmon anglers.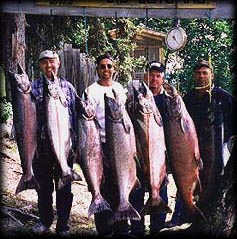 Now that's a mess of salmon barbeques!
Our Kenai River fishing charters generally takes place in the lowermost stretches of the Kenai, below the Soldotna bridge, from a four-customer 20 foot sled. Our three primary Kenai River guides each average almost 20 years experience guiding on the river; offering you one of the river's most experienced crews!